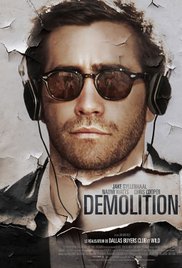 A successful businessman tries to put his life back together, after the death of his wife that has left him emotionless. "Demolition" is the newest film from critically acclaimed director Jean-Marc Vallee, and stars Jake Gyllenhaal as Davis Mitchell, a successful investment banker, who struggles mentally after losing his wife in a tragic car crash. Despite pressure from his father in law, Phil (Chris Cooper), to pull it together, Davis continues to unravel. What starts as a complaint letter to a vending machine company that took his dollar, turns into a series of letters revealing startling personal admissions. Davis' letters catch the attention of customer service rep, Karen Mareno (Naomi Watts) and amidst emotional and financial burdens of her own, the two form an unlikely connection. With the help of Karen and her son, Chris (Judah Lewis), Davis starts to rebuild, beginning with the demolition of the life he once knew. Step by step, he learns that some things weren't as evident as they once seemed. "Demolition" is rated R for language, sexual references, and drug use.
Vallee has been tremendously successful with two great films so far; "Wild" and "Dallas Buyers Club", so "Demolition" had some pretty big shoes to fill, and while it's not as ambitious as those first two films, this one is a welcome addition to a trilogy of trauma. This movie is very much an anatomy of a psychological breakdown, and how we deal with death. Jean-Marc is a master of inner-psychology, and his artistic integrity is put on full display for many scenes that take an original approach to filmmaking. For one, I think Vallee has the best editing in films currently today. In all of his films, he manages to make the thought process of each character as effortlessly as possible, overlapping each current scene with a silent replay of what that character is imagining. What is so brilliant about this method is that we as humans only hear what's going on in our current lives and situations when daydreaming. We don't actually hear the daydream. In addition to this, his touches on musical scores is definitely something to be adored in this film. When Davis is alone after the death of his wife, the film has no score. Music isn't even present in the film until about the halfway point, when Davis befriends Karen. From then, music is everywhere, and that music is a representation of life and how beautiful it truly can be.
What is interesting about this movie is that there is clearly a three-act structure, but it's not the kind that we as an audience are used to. The first act is usually used for a setup, but in this film it uses the setup for the biggest event of the movie. The thing that should be happening in the final act. This leaves the audience thinking it can't go anywhere else of higher emotion from here, but they would be wrong. The second act is usually used for the conflict, and it's in this difference where the film hit its weak spot. With the opening and closing being so strong for this film, it makes the middle stick out like a sore thumb, and it doesn't feel as ambitiously sound as the other two. For most of this part, we are subjected to a reptition in Davis's newly christened daily routine. It's fun to watch, but did tend to drag a little too long before I was asking the movie to speed it along. The third acts in films are used as the closure, but in Vallee's story, we feel like Davis's ending is only the beginning. This man is finally living life with his eyes open for the first time in a long time, and it's because of three MAJOR bombshells that happen during this final act that really sent me home happy. I admit that some of the unorthodox grieving methods of the movie did have me worried as to what direction this film was headed, but Jean-Marc projects an awesome combination of twisted humor and painfully wrecking grief.
One major negative for me with the movie came with this handheld camera style that I have never been a fan of. When this happens in movies, it makes certain scenes feel like the person holding the camera is getting a tired arm, often filling scenes with a shaking motion. It's not really noticeable until you get to a still scene when the characters aren't moving, but everything else around them is. THIS DRIVES ME CRAZY. It is the one constant critique that I have had for all of Vallee's films, and serves as the one chink in his otherwise unblemished armor.
I want to talk about the performances. Gyllenhaal tiptoes an often uncomfortable line of sanity for the audience watching, but he does it without ever making it feel like a gimmick. People deal with grief in different ways, and the movie's moral message for sometimes needing to see things for a second time rings true with Davis. We feel like the movie builds his extreme responses more and more, and this bomb is just going to explode soon. The chemistry between he and Watts made for some light-hearted moments in between all the madness. These are two very weathered characters within each of their own lives, and their only therapy is within each other. Chris Cooper is also great as the voice of reason and response to Gyllenhaal's new habits. This man also just lost the most important person in his life, so it's a nice contrast to see this man who has no trouble emoting what he really feels inside.
"Demolition" bulldozes through scene after scene of grief response. Vallee's deposition of life, and how fast everything can change with one moment, really sends the audience home with an appreciation-first kind of attitude. It's a bumpy ride in the middle, but the rest of the film requires you to use a seatbelt for the twisting roads ahead.
7/10