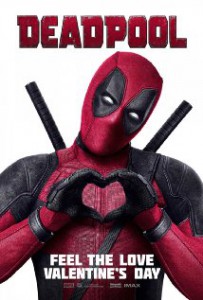 Project X's favorite Masked Merk returns to the silver screen in search of more positive results than his first effort, in "Deadpool". Directed by Tim Miller, and Based upon Marvel Comics' most unconventional anti-hero, "Deadpool" tells the origin story of former Special Forces operative turned mercenary Wade Wilson (Ryan Reynolds) being on the edge of his deathbed with cancer in every vital organ in his body. Wade who after being subjected to a rogue experiment by a mysterious businessman (Jed Rees) and his two associates (Ed Skrien and Gina Carrano) that leaves him with accelerated healing powers, feels inspired him to adopt the alter ego Deadpool. Armed with his new abilities and a dark, twisted sense of humor, Deadpool hunts down the man who nearly destroyed his life while trying to rescue the love of his life (Morena Baccarin). "Deadpool" is rated R for strong violence, language, and graphic nudity.
"Deadpool" is much more than a superhero film. It breaks through a fourth wall in more ways than one with laugh-out-loud comedy, heart pounding action, and a heart that most superhero genre films carry on without. To say that this movie was great would be an understatement. In all reality, "Deadpool" is the single greatest superhero film I have ever seen. Something that is ironic because the title character is defined as an anti-hero.
At the front and center of the film is Ryan Reynolds. This movie serves as a dream project for the Canadian native, and he has been looking for a chance to film this project since the disappointment that was "X-Men Origins: Wolverine". How does "Deadpool" differ? Well for starters, the film lets Deadpool own the most of every scene with his R-rated humor and quick-wit comebacks. To see any other Hollywood actor in this role would be doing a disservice to the character. Reynolds IS Deadpool. He has invested so much into a character that most crowds knew so little about. What makes his role refreshing is that even despite how unforgiving and menacing he is to his enemies, there is a real person underneath this mask who hurts like everyone else. There were scenes in this movie that touched my heart for their brutal honesty on society and how they sometimes treat someone who looks different. We really feel for the kind of lost life that this guy has endeared, and it feels like this guy just can't break free from some of the torturous past that has defined the better part of his life.
Behind every good man is a woman, and Morena Baccarin provides wonderful chemistry with her on-screen co-star. It's convenient that this film drops on Valentine's Day weekend because the romance between them is something for both sides of the relationship. The two of them are kind of outcasts in their respective worlds, so when they come together it kind of stabilizes all of the nastiness that their lives entail. Where their story really works is in the heartbreaking news for their relationship when Wade is diagnosed with this life-changing disease. The movie does well in its presentation to show the mountain top that these two were on before one event changed everything forever. It's tough to relate this kind of relationship to both sexes in the audience in any film, let alone one that is a Marvel movie, but it works for every single second. Baccarin shines like a quiet storm whose importance to the film and it's protagonist greatly increases as the film goes forward. She proves that she is much more than just a damsel in distress.
The action was every bit as hard hitting to offer a 1-2 punch to some of the gut-wrenching laughs the film served up. There's a feel of Matthew Vaughn meets Zach Snyder kind of cinematography for the way the sequences are shot, complete with everything from quick edits that match the very tight choreography of our characters, to the slowed down shots that showcase so much going on in the background that you might miss if you blink. The most lasting impression in any film is its replay value, and "Deadpool" offers aplenty for the many quick wit hits and on-screen visual gags that you may have missed while closing your eyes to wipe tears of hilarity from pouring down. The movie has an outstanding sense of humor that I haven't seen in easily ten years, and a lot of that revolves around the breaking of a fourth wall that pokes fun at everything from real life behind-the-scenes drama from past Reynolds films, to cliche-ridden superhero films that often come off as a bit repetitive. It really does serve as the rebel of the group, and nothing ever feels off limits for the masked merk.
If there was one weak spot in the film that served as even the slightest nitpick, it was in the vilain being a little too conventional for a film that pokes fun at that type. One could certainly view it as intentional, but I felt that Ed Skrien's portrayal just didn't provide the kind of sinister force that Wilson deserved to really make you doubt his well being in this fight. That's not to say that the final battle isn't entertaining, but it's a little anti-climatic considering Deadpool is a persona who regenerates.
"Deadpool" is the must-see movie event of 2016. During a month known for its box office blunders, Tim Miller's fresh take on an over-saturated genre goes above all expectations that the months and months of advertising supplied this film. At a 58 million dollar budget, the film looks and feels like a cheap production, and I feel that is the way it should stay going forward with sequels. Be sure to stay after the credits for an instant dose of nostalgia that you would never expect for this character. "Deadpool" is a heart-pounding, gut-wrenching powder keg that never lets its audience up for a breath of air. It's a game changer that beats them into submission and offers a fun and adult look at just how great the genre could be for many years to come.
10/10