Spotlight Series: Kristen Wiig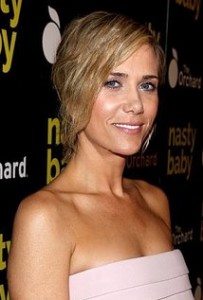 FROM SATURDAY NIGHT TO STARDOM
By Chris Kessinger (The Film Freak)
Many actors and actresses come in and out of "Saturday Night Live" with the hope of a prestigious career in Hollywood cinema. Some examples of successes are Eddie Murphy, Adam Sandler, and Will Ferrell, but the list of obscurity piles even higher. One aspect until the 21st century has always been that women haven't gotten as big of a push on the show as men. That changed with the arrival of hilarious heavyweights like Tina Fey, Amy Poehler, and of course the great Kristen Wiig. Kristen made her first big screen appearance as a cameo in 2007's "Knocked Up", and it's clear that she had the charisma and sarcastically witty delivery to be a big screen presence. In 2011, on the eve of her final season on SNL, Wiig broke through the mainstream with a female dominated ensemble in tow, in "Bridesmaids". Ever since the success of that film, Kristen has supplied film after film of gut-busting humor to give her fans an appreciation for the true art of comedy. The laughs would always be there, but it's in Kristen's ability to adapt to serious roles that has earned her a respectable reputation as a versatile actor among Hollywood's elite. With roles in "All Good Things" and "The Skeleton Twins", Wiig has solidified her name on the top of any casting list for future projects.
Perhaps Kristen's most challenging of roles came in 2014's "Welcome To Me". A role that brought together the best of both worlds; humor and performance, as well as bringing a lot of awareness to Multiple Personality Disorder. Let's take a look at the film that earned Kristen's performance a standing ovation at the 2014 Toronto International Film Festival:
WELCOME TO ME (2014)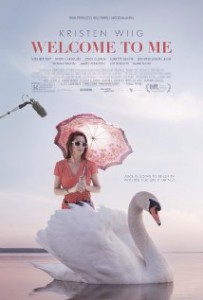 Alice Klieg (Wiig) suffers from borderline personality disorder, but she has what she needs in life. She has an apartment, a best friend, and tapes of every Oprah Winfrey show. After winning the lottery, she also has 83 million dollars. What she doesn't have is an outlet for the whole world to know who she really is. The TV station cuts her off when she tried turning her lottery announcement into a frank discussion of her sexual experiences, but with her money in hand, she's off to LA to convince two struggling TV producer brothers to produce her own TV show. Whatever it costs, she's going to do it. From swan entrances to dog neutering, she is going to introduce the world to Alice. But is the world ready for Alice?
What takes a lot of bravery in Wiig's performance, is the ability to relate the very struggles that Alice goes through without being offensive about it. What begins as a touch of light-hearted comedy, soon turns into a blanket of melancholious sorrow for her inability to progress with society. The film offers a mesmerizing turn from Kristen that will leave you laughing and cringing for the very surreal tightrope of bizarre that she walks here. Her performance is simply a tour de force of deeply disturbed narcisstic tendancies, combined with an originality on delivery that puts her work in a class of its own. Wiig, as well as Shira Piven's precise direction, presents a lead protagonist that tiptoes between a character the audience can love and hate at the same time. We learn so much about her condition, but the film never presents it in a light of pity. Alice has a degree as a veterinarian, and serves as a fully functioning woman with some kinks. It respects the character as a human person, and all of these things together only adds to the kind of depth that can push Wiig's performance further.
The film's script is a little jumbled, but I feel there is great artistic creativity in its presentation. The direction tends to jump from one scene to the next without much rhythm or consistency for its story, but I have always viewed this as intended, considering the background of our main character. Alice is always jumping from one topic to the next, and Piven's script does a lot of the same. It really presents the very depressing nature of this condition, while trying to communicate to the audience a very relatable centerpiece. Over the course of the 89 minute presentation, A lot of the film happens in eventful spurts, instead of one continuous story. This kind of thing is likely to alienate some audiences, while offering an imaginative spin for the others.
One of the more surprising aspects to the film's reception has come from splitting the audiences directly in half. According to Rotten Tomatoes, the film currently holds a 73% among critics, but a disappointing 46% among moviegoers. This is a little surprising, but I think a misleading trailer leads this movie in a different direction than where people end up. I recommend if you check it out, just go into the film blindsided. I think it offers the biggest return with the least you know about Alice and her complicated situation.
"Welcome To Me" invites you to a performance that will open your eyes to a different side of Wiig's capabilities that proves she has conquered TV and the silver screen alike.
You can find more of Chris's weekly film reviews at:
Thefilmfreak.com