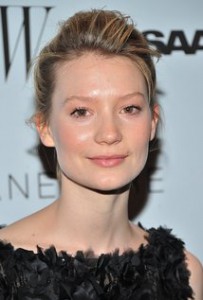 MAMA MIA
By Chris Kessinger (The Film Freak)
As far as acting chameleon's go, Mia Wasikowska offers A magically diverse range of characters over the course of her career. unbelievably, in just twelve years on the silver screen, the twenty-six year old Australian has carved A reputation for being a quiet storm of sorts in the roles she takes on. Her hushed personality in her characters offers just enough mystery behind A sort of seductive smile that leaves us completely wanting more. That's when the real genius of her spell takes place. Through playing opposite of some of Hollywood's hardest hitters, Mia time and time again steals the show from the very best because of her ability to get lost in every character, and undeniable emotional depth for such a young talent. Beginning May 27th, Mia will once again reprise her role as Alice Kingsleigh, and fall into Wonderland, in "Alice Through the Looking Glass". However, not everything has been sunshine and talking hatters for the Aussie. To understand why she's so great as A childlike adult who refuses to ever grow up, you must first witness the darker side to this stigma. Lets check out one of the most astonishingly-deranged films I have ever seen.
STOKER (2013)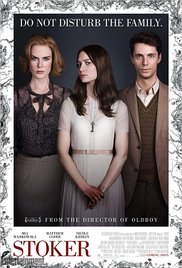 Chan-Wook Park's North American directoral debut centers around brash family motives embraced by mysterious characters. India Stoker (Mia Wasikowska) is emotionally reeling after the death of her father and best friend Richard (Dermot Mulroney) to a tragic auto accident. The solitude of her luxurious family estate, the peace of her tranquil town, and the unspoken somberness of her home life are suddenly upendeded by not only this mysterious accident, but by the sudden arrival of her Uncle Charlie (Matthew Goode), whom she never even knew existed. When Charlie moves in with her and her emotionally unstable mother Evie (Nicole Kidman), India thinks the void left by her father's death is finally being filled by his closest bloodline. Soon after his arrival, India comes to suspect that this mysterious, charming man has ulterior motives. Yet instead of feeling outrage or horror, this friendless young woman becomes increasingly infatuated with him. This dangerous game of cat and mouse has India discovering things about herself she never envisioned capable of.
If reading the plot to "Stoker" doesn't make you feel awkward enough, the dark and ominous atmospheric tones for the movie will. Park's films always view the world as an unforgiving place, and "Stoker" is certainly no different. His use of silence and the effect it has on character mood and composition really serve as A delightful strength to the film's growing cloud of caution. This is A family with A tortured past that really comes back to haunt them in present day. We as an audience get the feeling that anything is possible within the enigmatic psyches of our main characters. Most notably in India, who Wasikowska developes as an emotional onion, peeling back one layer at a time. India feels like a girl whose world has just crumbled down around her, and perhaps a piece of herself has died with her father. There's so much within the way Mia performs this character that is reminiscent of the silent pictures era of film. Her character proves that actions speak louder than words, and it makes for a very hypnotizing scene-stealing performance. Mia doesn't just shine going blow for blow with on-screen mother Kidman, but their brilliant interractions and on-screen chemistry provide A symbolic passing of the torch for the majestic Wasikowska.
There's also A lot of deeper meaning below some of the tense and claustrophobic feelings of India's experiences with Charlie that is easy to pick up on. One can translate India's awakening externally as A sort of modern day growing-up tale, when the child becomes the adult. There's certainly enough evidence to support this in India's daily wardrobe, suited to look like an early 20th century schoolgirl. We see A couple of times in the movie where she is handled and treated like a fragile little girl, despite her look and age being a completely different telling. One scene in particular showcases Charlie tying India's shoes for her so that she doesn't fall. Scenes like this and the subtext of one character standing higher than the other on A staircase more than communicates to the audience the kind of adolescent coming-of-age tale that screenwriter Wentworth Miller (Yes, of TV's "Prison Break" fame) was trying to tell. It's A transformation that the audience can believe in, if only for the well being of India's mental stability.
"Stoker" is A beautifully twisted story, artfully composed and fiercely performed. This film triumphs as A hyper- visual gothic masterpiece that can't be missed. At the helm is A spellbinding performance from Wasikowska, who
executes a psychological storm of emotional depth years ahead of her prime.
You can read more of my film reviews at:
Thefilmfreak.com