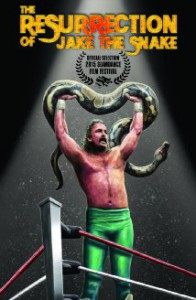 The Snake always bites back. This quote is a summary for the redemption of one man who lost everything on the road to self-destruction. In "The Resurrection of Jake "The Snake" Roberts", Director Steven Yu and producer Diamond Dallas Page document the rise and fall of one of wrestling's greatest characters inside and out of the ring. Jake Roberts was on top of the world in the 1980's, but a series of poisonous addictions and family abandonment left Jake at rock bottom on his deathbed. With the help of Page, Roberts finds himself presented with the chance to get back up after life has knocked him down plenty of times and finally stand proud on his journey to the mountaintop; a chance at putting the touches on the final page of an intriguing WWE story. Along the way, Jake comes to the realization that his ugly habits and lack of clean living has not only taken away his greatest gift inside of the ring, but damn near took his life from his eight children along the way. The documentary is a redemption story for one of wrestling's most tortured souls who proves it's not about how many times you get knocked down, but how many times you get back up along the way. The film had a rousing review of positivity from the crowd at 2015 Sundance, where it debuted.
As a longtime wrestling fan, Jake Roberts was one of the very best when it came to in-ring psychology. Pehaps his ultimate downfall was that he was the very character he portrayed on-camera, and there was a lot of demons internally that followed such a lifestyle. Yu visually narrates us through a layered telling of Jake's backstory that presents us with the shell of a man we have left. That angle is one of many that works effortlessly for the film because it's every bit as important to showcase what got him to this point. There's a real sense with the tone of this picture that Roberts might not make it out in positive fashion, but that presents a paradigm in honest storytelling that really catapaults the message of the film. In addition to Roberts troubles, the film reveals the troubles of Page's failing business venture DDP Yoga and how it saved Jake as much as Jake saved it. Along the way, the two also take in former wrestling bad boy Scott Hall, who upon first impression is even worse off than Roberts. It does make for a clouded focus at times, especially with this being a story supposedly about Jake, but the movie doesn't stray too far from the main idea.
The movie showcases an all-star team of interviews and spoken words to reveal Jake's greatest contribution to the sport; the fact that he inspired so many. Chris Jericho, Edge, Steve Austin, and Ted Dibiase are just a few of Jake's peers who lend their thoughts to one of the most influential men to ever lace a pair of boots. The film would be entertaining enough by its sales pitch of Jake's brutal but honest road to a seemingly impossible redemption, but the touch of involving other heavy hitters of the ring really cements a legacy by a protagonist who while not the greatest of role models, is someone who reminds us that it's never too late. Jake is someone who the audience will have trouble ever looking away from. His struggle felt very personal to me because this is someone who was very closely connected to my childhood. Nobody certainly ever wants to see their heroes die, but Roberts lonely daily routine made the documentary that much more urgent. Yu's best work comes in the stance of not just being another guy with a camera, but a hands-on approach to his characters. Along the way, he serves as Jake's watchful eye while Page can't always be there. It's a constant reminder that Yu does so much more than craft a heartfelt wrestler's last chance.
As opposed to the 1999 documentary "Beyond The Mat" that left many with ill feelings towards Roberts, "Resurrection" has it's moral compass in the right place by remembering that Roberts is a person who cries and bleeds like everyone else. The epilogue of such a film overstays it's welcome by about ten minutes too long in the 96 minute run time, but there is a great sense of closure not only with The Snake, but with Roberts himself. Through a series of great editing and montage clips, Yu forecasts a future that Roberts can build on with positive thoughts. His look into this mind of madness is funny, heartbreaking, surreal, and, for a story about pro wrestlers, surprisingly candid. If you are a fan of old-school wrestling, definitely check it out. Sadly, I don't feel there is a lot of appeal to an audience outside of that grouping.
8/10