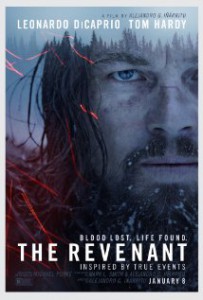 Leonardo Dicaprio pushes the envelope as much as humanly possible in pursuit of his first Oscar, as a man searching for revenge, in "The Revenant". Inspired by true events, Alejandro Inarritu's latest film captures one man's epic adventure of survival and the extraordinary power of the human spirit. In an expedition of the uncharted American wilderness, legendary explorer Hugh Glass (Leonardo DiCaprio) is brutally attacked by a bear and left for dead by members of his own hunting team. He is pronounced dead by these members upon returning home, but two of them know the real truth behind their devilish deed. After witnessing the murder of his own son while physically handicapped, Hugh's motivations to keep breathing are enhanced by the spirit of revenge. In a quest to survive, Glass endures unimaginable grief as well as the betrayal of his confidant John Fitzgerald (Tom Hardy). Guided by sheer will and the love of his family, Glass must navigate a vicious winter in a relentless pursuit to live and find redemption for the spirit of his only love; his son.
At it's face value, "The Revenant" is a story about revenge, plain and simple. But what Inarritu does artistically and emotionally is craft one of the very best films of the year, and one of the most impactful films of the decade. The sheer volume of breathtaking camera shots, as well as surrounding action and suspense that encompassed my viewing left me gasping for air at the sheer volume of everything hitting at once. The wide angle shots that deliver some of the most beautiful shots digitally showoff the snowy and unforgiving mountainside as faithfully as possible. The film's location is one that goes on for miles and miles with nothing other than bone-shattering cold and snow for the viewers eyes to see. Inarritu is one of those experimental directors who only comes along once in a while, and his two and a half hour epic will serve as a calling card to the greatness that embarks this man. There are so many impressive and fast paced shots that left me stunned as to how Inarritu managed to pull them off with such clarity. Very little special effects (Other than a CGI bear) are used for the film. Perhaps the most impressive tidbit is that "The Revenant" used natural lighting for every single one of it's scenes. When the movie is dark, you are seeing everything that the light allows you to see, so in a sense you are at as much of a blindfolded disadvantage as Glass is in the film. My favorite shots are the long shots where Alejandro leaves the camera on during long takes to capture as much as he can without cutting. We saw this breakthrough style of shooting in last year's "Birdman", and I am thrilled to goosebumps that the man brought it along for this movie. The gorgeous technique of panning from one side of the screen to the other captures everything without sacrificing the artistic value of the film's integrity. Just within the opening twenty minutes or so, we are treated to up-close gunshots, as well as arrows flying at the screen, giving the film an almost three-dimensional feel without actually needing the cheesy gimmicks that go along with it.
The performances leave nothing to be desired from every part of the emotional spectrum. If Leonardo Dicaprio doesn't win the Oscar for Best Actor this year, then I swear to all of my readers that I will no longer watch the prestigious ceremony for as long as I'm alive. This man sacrifices life and limb quite literally with his turn as the legendary explorer Hugh Glass, and it really defined the meer definition of human spirit. Dicaprio is beaten and bloodied during several scenes that really push the envelope for an actor's job. I have been a huge fan of Leo for over two decades, but this role is by far his best performance to date. What is even more remarkable about his depth is that he does so much with a stare. Glass doesn't have many talking lines in the film, and what lines hedoes have focuses on his thirst for blood at the hands of his coward adversary. Leo communicates his feelings to the audience by a simple stare or daze that encaptures the misery that this man is experiencing. My favorite actor Tom Hardy also lost himself as the film's central antagonist, while playing opposite of Leo for the second time in his career. The most dangerous thing about Hardy's Fitzgerald is that we don't see a lot of what's running behind the engine, and that makes for the scariest of vilains. Hardy is a master of voices and disguises, so much so that I nearly forgot a couple of times that he was the man portraying this deep south accent when the camera wasn't focused on him. I also greatly enjoyed the chops of up-and-coming Domhnall Gleeson as the man in charge. When Gleeson learns the truth, the fire inside of him isn't quite as vicious as that of Glass, but it burns for a completely different reason. He is a noble leader, and doesn't give up on his men until the very end.
The story itself centers a lot around rebirth, so it's no surprise that Inarritu focuses a lot of his time on spiritual visions through the eyes of Glass. There are attempts to always keep the audience guessing with surreal imagery and symbolism, and it doesn't always come across as informative to the audience. It is a little pretentious and even repetitive during the second act, but it never left me bored or seeking more from the movie's over-physical stance. The film clocks in at just over two and a half hours, but manages to keep the attention of it's audience by the violently fast-paced storm of action going on around us.
One thing that is evident in Alejandro's films is that the man knows how important a musical score can be to the pacing of each suspenseful scene. Musical composer Bryce Dessner and Ryuichi Sakamoto team up for one heart-pounding narration that really takes us inside the mind of Glass, often injecting drum beats playing in-sync with ominous orchestral notes that glorify the pain taking place on screen. These tones signaled to me when terror was lurking, while still leaving a lot of surprise on-screen with a script that never lacked surprises to say the least. If a musical score is done right, it will have the ability to get your heart racing despite the fact that you are watching this on a screen and safe from the film's terror. Dessner and Sakamoto did accomplished this feat while leaving me humming some of the repeated rhythms.
"The Revenant" is only the third film that I have given a perfect score to this year, and it more than lived up to the hype. It's a knock-down, spiritual slice of adrenaline that never stops pumping. Despite looking forward to it all year, the film had to earn it's place with me, and it certainly gave me something that I haven't seen in 203 films this year; artistic imagination and the translation of four-dimensional physicality. I am still reeling from the brutal nature of this film, but Alejandro Inarritu taught me that the human spirit can withstand anything if love is on the line.
10/10