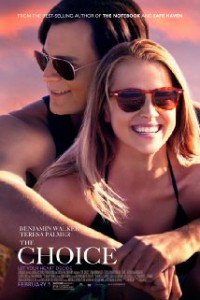 Two neighbors in the middle of a budding romance find themselves tested beyond expectation with "The Choice". Based on the novel by Nicolas Sparks, the film takes place when feisty medical student Gabby Holland (Teresa Palmer) moves in next door to perennial ladies' man Travis (Benjamin Walker), it sends them both on a romantic journey neither ever dreamed possible. Travis has always believed a serious relationship with a woman would cramp his easygoing and adventurous lifestyle, while Gabby is all set to settle down her long-term boyfriend Ryan (Tom Welling), until an irresistible attraction between the neighboring couple upends both of their well-planned lives. After a whirlwind courtship, Gabby and Travis wed and build a family together, making every decision hand-in-hand until one of them is forced to make the most important choice of their life alone. A romantic and life-affirming celebration of love, marriage and family that explores the most heart-wrenching question of all: how far would you go to keep the hope of love alive? "The Choice" is rated PG-13 and directed by Ross Katz.
My past experiences with Nicolas Sparks films have garnered similar emotional responses. These are typically predictable films that present a world full of emotionless romantics who are typically from two different sides of the tracks. The films usually end with one of them getting in a serious accident that may or may not end the life of a main character. To say that "The Choice" was much different from this direction would be lying to my reading audience completely. The film is fullproof that the genre keeps getting weighed fown from predictable outcomes, as well as laughably bad line reads that will have you slouching in your seat.
The film begins (Of course) in Wilmington, North Carolina. A beautiful creek town of clean-cut kids with little to no social problems in the world. If that city sounds familiar, it's because it's where "Dawson's Creek" and "One Tree Hill" were shot. This film feels like the worst episodes of both of those shows. Director Ross Katz uses a majority of his screen time to bombard us visually with wide angle shots of the water and birds passing. The camera work is solid in regards to framing and capturing, but the cinematography gives the look of the film a kind of Flomax commercial feel, complete with montage fun times and boring accoustic music. On more times than once, I caught the same shot being recycled in a later part of the film. These kind of shots are usually used for the opening minutes of a film to set the environmental tone of the film, but the movie keeps beating us over the head time after time to show the dreamy landscapes. Just once I would love to read a Sparks story that takes place in the ghetto with poor people. Too much to ask?
The story is regurgitated muck from a best of in the Sparks filmography. There is of course a love triangle for the affections of Gabby. The biggest problem from this angle, aside from the fact that it's used in EVERY Nicolas Sparks movie to this point, is that the movie is morally bankrupt with who the audience is rooting for. As our protagonists, the film wants you to embrace love conquering all even if that all is cheating on your two significant others. I will get to the characters later, but Gabby is so unlikeable as a leading lady that it was hard to find any redeeming factors in her traits. She has this amazing doctor boyfriend who doesn't cheat on her, abuse her, or demean her in any way, but she cheats on him without ever truly suffering emotionally for her poor decisions. Aside from this, the film uses its third act to bring back a familiar cliche for this writer's work, and it's presented in total slow motion.
A majority of this film did move along pretty smoothly and kept me entertained even if it was for all of the wrong reasons. Where the pacing gets subdued is during the third act where the film fast-forwards seven years. SPOILERS SPOILERS – Our main characters now have two children and are married. All of this happens in a tornado flash without so much as a minute to stop and soak in any of these major life moments for our characters. What really brought me to tears hilariously was the lack of aging so much as a day in either of Gabby or Travis's physical features. I'm not asking for a huge change here, but the characters don't even comb their hair differently, nor does Gabby look even remotely aged in skin tone considering she had two children. I just don't buy it. The cheapest aging effects would've been enough, but it's things like this that took me out of the movie. It is during this time that a character (Of course) encounters a brutal accident, which leaves them conveniently without a scratch on their face, but the scenes are in slow motion. We wait through numerous scenes of wimpering dialogue when we just want an answer. Considering you pushed two kids and a marriage through five minutes of scenes, I think you can give us an answer for the fate of this character in about the same damn time.
This review would be nothing though, if I didn't mention the characters and performances. I already spoke on how unlikeable Gabby is, but the real thorn in the side is Teresa Palmer's suffocating line reads. I find it hard to grasp when this character is mad or happy because she says her angry lines with a smile. Besides the fact that her and Benjamin Walker have absolutely zero romantic chemistry, there are many scenes where their romantic lines fall flat to bad timing, and it leaves many scenes full of dead air. Seriously, if this film cut out these dead air scenes, 106 minutes would quickly become 90 minutes guaranteed. Walker is decent, but he doesn't have enough charisma to really shine as a leading man. Far too much of his scenes emotionally are on one setting. We never really get that chance to see what makes Gabby want to run away with this guy from quite literally THE perfect guy. Walker is one of only three people in the movie with a southern accent. This wouldn't be such a problem if 1) The film in its entirety didn't take place in the south, and 2) There weren't more than 20 characters with speaking roles in the movie. It all just gives the movie that "I don't give a shit" feel that romantics will eat up regardless of my review.
"The Choice" doesn't present nearly enough difficult options to make seeing this movie warranted. There are currently MUCH better films at the box office, so make "The Choice" to tell Nicolas Sparks that "The Boy", "The Finest Hours", "The Forest", or "The Finest Hours" are much better movies with boring titles than this near two-hour pile of moral bile.
3/10