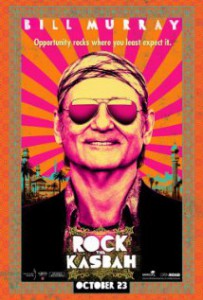 A crass, smooth talking music agent learns about truths and consequences about living in Afghanistan, in "Rock The Kasbah". Richie Lanz (Bill Murray), dumped and stranded in war torn Kabul by his last remaining client (Zooey Deschanel), discovers Salima Khan (Leem Lubany), a Pashtun teenager with a beautiful voice and the courageous dream of becoming the first woman to compete on national television in Afghanistan's version of "American Idol." Richie partners with a savvy hooker (Kate Hudson), a pair of hard partying war profiteers (Danny McBride and Scott Caan) and a gun toting mercenary (Bruce Willis) and, braving dangerous cultural prejudices, manages his new client into becoming the "Afghan Star". "Rock The Kasbah" is certainly one of the strangest movie experiences that i have had this year. Director Barry Levinson's latest flick is perhaps his worst directed effort of his storied career, but it goes a lot further than just lack of effort from the film's head.
This movie is terribly miscast, even as far as making misery out Murray, a man who rocks even the weakest of scripts. The only smile that you will see out of Bill in this film is in the movie's poster. Murray does his usual tongue and cheek schtick with strange voices and noises, but it feels like he (Along with the film's tone) gives up midway through the movie. What we are left with is a beaten down character whose best days are behind him. The film uses his ability to lie very well as the big bombshell when the third act comes. Yes, we the audience are supposed to feel shocked and dismayed when Lanz reveals that most of his tales and Rock-N-Roll adventures are just hype to get new clients to sign with him. Agents lie? Who knew? In addition to Murray, Willis, McBride, and Zooey Deschanel are all cast in roles opposite of anything they are used to playing, in order to drag a smile out of the audience. The film can't buy consistent laughs, so why not cast these big name actors to fill the void. The problem is as i already mentioned, these actors have no direction to play these characters off of. They all feel like stereotypes without very little heart added to the film. With the exception of Lubany, the film's performances are all thrown away. Leem breaks the mold as someone wanting to breakout and change everything about her culture and how people see her. Something this movie could use a little more of. The negative is that we only get a hand full of scenes to show off her big screen presence and impeccable vocal capacity.
Even more than the performances is the movie's lack of act structure or tone. The movie begins with a first act that pulled a couple of giggles out of me, and you feel like you can really settle in to a movie with this kind of twisted humor. Boy was i wrong. During the second act of the movie, the film almost changes entirely to an ammunition charged thriller. This is an area where i couldn't understand why you would cast someone like Murray as the lead. It's not that Bill can't act in these kinds of situations, but "Kasbah" cuts off his actor legs in favor for a variety of on screen chaos that never quite forms in to anything. Car explosions, tribal kidnapping, and even a reality show all come out of nowhere without any lead up to the direction the film is heading. It felt to me like many scenes were missing in between some of the major action points of the movie, because i am clueless as to how a majority of these scenes reached their resolution. If this movie is really based on a true story, then maybe we could've gotten some honest answers to the questions the movie raises, instead of this off the chain feel where anything can happen. The movie wants to be so many things at once, when in all reality it never settles on just one identity.
Another strange aspect was in the musical score for the movie. I'm not saying i didn't enjoy it, but it is quite unusual to hear songs like Kid Rock's "Bawitdaba" alongside "Don't Let Me Be Misunderstood" by Nina Simone. It's a very eclectic taste, and that is why it was one of the only things truly relatable to the film, but i feel like the music used here is put in the wrong scene order. Simone's ballad should be placed during the third act when Khan's village is coming down around her confrontationally, and not so much when Murray is coming back from a long night of boozing and handcuff sex with Hudson. It might not seem like such a big deal, but it's all about care for a script this tender. I use that word because the film's trailer was A LOT better than the actual movie, and yet even a decent trailer didn't yield such striking results for a movie that opened 13th at the box office this week, with a wide release. I certainly smelled failure coming from a mile away with this one, but was willing to look past the 8% it is currently listed at on Rotten Tomatoes. This is strictly a payday movie, but too much star power with big contracts combined with a weak box office intake might make this a losing effort on all ends.
"Rock The Kasbah" is a big step backwards for Levinson and Murray. With two polarizing figures of the silver screen, the mystery of how this movie screwed up so bad will always be a mystery. This is a movie with the capability to sweep the categories at the Razzie Awards. Truly one of the worst films that i have watched this year, made even more frustrating by the fact that it makes "Jem and The Holograms" only the fourth worst release of the week.
2/10